Snowshoeing to a Black Prince Affair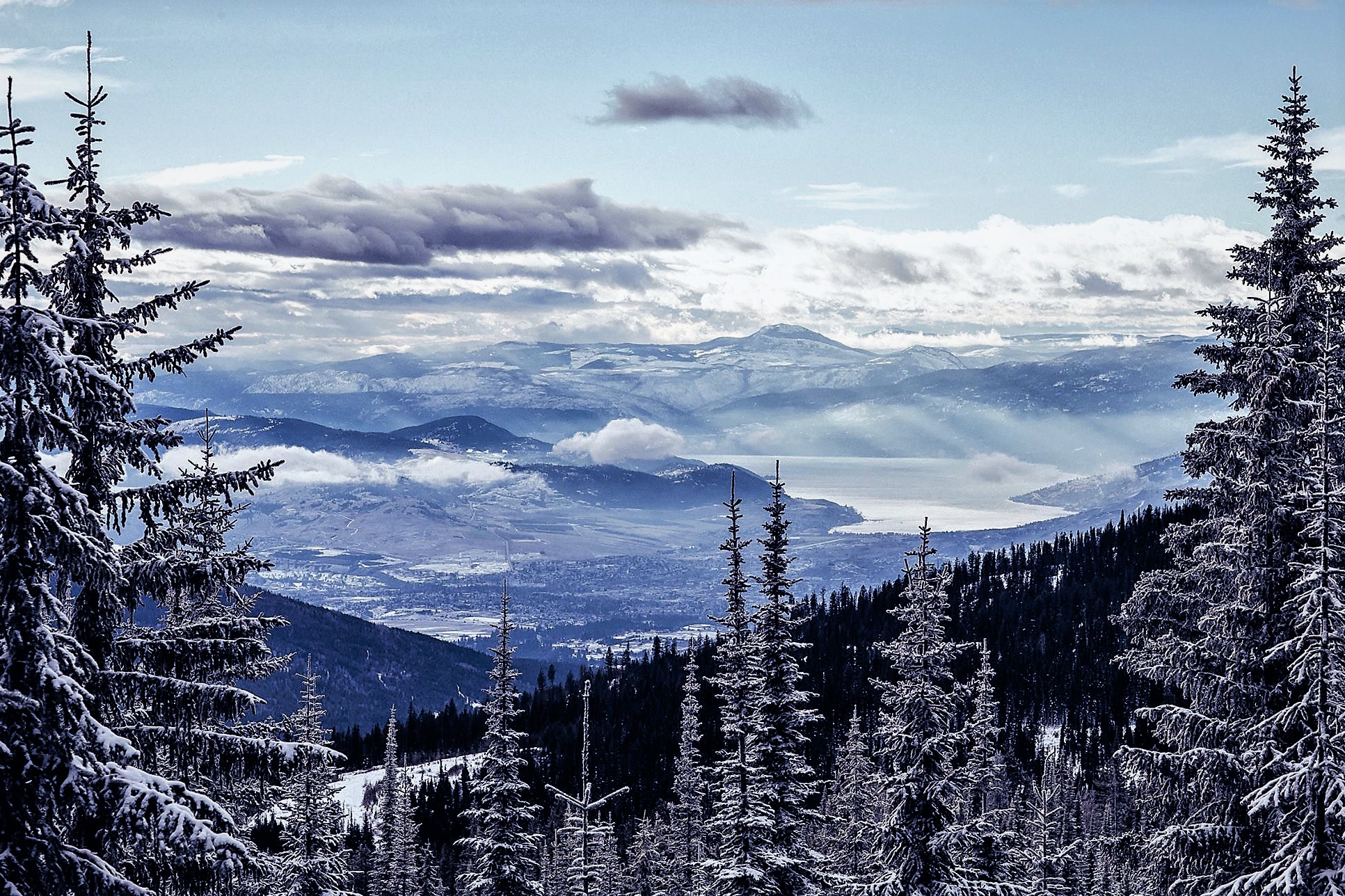 The View Out Here
From November through March, the sub-alpine trails of Sovereign Lake transform from wildflower lined pathways to a wonderland of snow that beckons outdoor enthusiasts to explore the elegance of the Okanagan in winter.
Breaking paths through blankets of powder is not a new recreational pastime, it's a way of life for the locals. A traditional Indigenous mode of transportation, snowshoes allowed people to travel throughout the region navigating deep drifts and frozen creeks while traversing mountain terrain in search of food. This is pretty much what we set out to do on our Black Prince forest night tour and dinner excursion.
Not Your Daddy's Pastime
A snowboarder in love with speed and the thrill of discovering fresh terrain to try new tricks, I wasn't convinced that snowshoeing would be for me. I had imagined the sport as something for families with young toddlers or older adventurers. Well, I was wrong; this 5000 year-old-sport is perfect for toddlers, seniors and pretty much anyone in between. Strap on your headlamp and let me show you why.
Hidden Gems
On route to Silver Star Ski Resort lies an alpine oasis catering to cross-country skiers, snowshoe enthusiasts and alpine adventurers hunkering to vagabond the back country using human power. Sovereign Lake provides access to over 105 kilometers of connected ski trails and 20 kilometers of snowshoeing paths making it North Americas largest cross-country ski club.
One of the wonderful things about the rec site is motorized vehicles stay in the parking lot where they belong, and carpooling is strongly encouraged.
Black Prince Tour
General Manager, and food foraging enthusiast Troy Hudson works hard to create an authentic alpine experience and is excited to have hit the coveted 2100-member benchmark, crediting the increasing popularity of snowshoeing with much of the clubs growth. We agree, but also credit the ridiculously affordable pricing that offers $8 adult day passes and $50 season passes, as well as the Black Prince Dinner series.
It was the Black Prince Dinner that lured us to Sovereign Lake. Three courses of locally sourced food and crisp cider, served by candlelight, in a rustic warming hut, in the middle of a forest. Definitely worth a vagabond! So, equipped with the suggested clothing and rental gear we strapped on our headlamps and joined a group of adventurers for an evening of conversation, exploration and good food.
Magic Moments
The trip in was an hour-long adventure on meandering trails that led through tall trees and snow-covered terrain. Our dinner was in February so we lost daylight early meaning, we travelled with illumination from our headlamps, which cast a beautiful glow into the trees creating magical moments, and an abundance of ambiance.
Family Style
After an hour of exploring, and working up an appetite, we arrived at the warming hut ready to feast. Upon entering, we were immediately engulfed by the warmth of the wood-burning fire which smelled faintly of cedar punctuated by the spicy aroma of mulling cider.
The dinner was served family style, providing ample opportunity to better acquaint ourselves with new friends. Our first course was crisp wedge salad with a delicious dressing, salty feta and perfectly prepared bacon - a good way to kick the taste buds into gear. Paired with a crisp and dry cider from BX Cidery we were well primed for our second course.
Basket Case
Succulent roasted lemon chicken, scalloped potatoes and grilled local vegetables served with an amazing roasted ratatouille rounded off the main meal. The scalloped potatoes were one for the recipe book and I found myself not only going back for seconds, but for thirds.
Just when I thought there was no possible way to indulge in more food, we were offered deconstructed brownies with fresh whipped cream and a homemade cherry compote. Exploding with flavor, people were unable to resist the temptation and a last serving of mulled cider.
Kudos to Basket Case Picnics and Catering for hauling in the mouth-watering meal.
Mother Nature
With spirits high, and bellies full we made the trek back to the Nordic Centre. As if on cue, Mother Nature comped us a lustrous lightshow turning the night sky into burning shades of orange that reflected off the snow casting a golden-hue back into the trees. Entranced by the simple perfection of a magical evening we gathered in a circle and took turns exchanging gratitude for the experience and opportunity to share it with kindred souls. We arrived as strangers and left as friends sharing contact information and promises to connect for future gatherings.
The Morning After
The next day I purchased my own snowshoes finding a pair on sale for around $70. Next year I'll purchase a Sovereign Season's pass knowing that snowshoeing and quite possibly cross-country skiing will have a permanent spot on my Okanagan winter to do list!
What's on yours?
Brittany Mudry, resident vlogger and sometimes blogger Okanagan Valley Vagabonds.